Testimonials
Customers constantly tell us how pleased they are with our service and support! Find out why by reading through some of the positive comments below.

General
"Your support is the best I have ever dealt with. I can easily get someone on the phone to answer my questions or problems, unlike other hosting companies where you have to wait 24 hours for an email response. Your services are very affordable and convenient to use. I have 4 websites hosted by you and am a very satisfied customer! Keep up the great work."

Debbie Gastelu
www.tdspeedshotz.com
Advanced Hosting Customer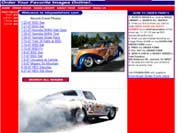 "Our company has been a customer for about ten years. We have always been impressed with the prompt and reliable support and have recommended EasyCGI enthusiastically to colleagues and clients. For us this high level of professional support has been a key ingredient in expanding our scope and solving problems as they arise."

Timothy Binkley
www.sendablessing.com
Reseller Hosting Customer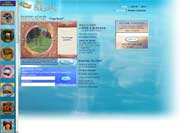 ASP.Net
"The power of ASP.NET and the reliability of EasyCGI's Windows Hosting have allowed me to build technologies that power a dynamic, interactive community website. ASP.NET partial page caching backed by a Microsoft SQL Server database allows the results of dozens of queries to be cached and displayed efficiently and effectively, providing visitors with a fast and seamless browsing experience. Leveraging this functionality, community contributors can edit content pages and front-page news items on-the-fly, without any advanced knowledge of the underlying technologies normally involved in the creation of web pages."

Michael Thomas
http://www.cncgeneralsworld.com
ASP.Net Hosting Customer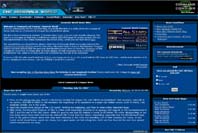 Windows Hosting
"EasyCGI is inexpensive yet still offers everything I need to run a fully functional website. Customer support is always helpful."

Erik Samdahl
http://www.gmi-mr.com
Windows Hosting Customer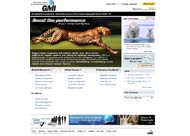 Community Server
"EasyCGI isn't just your ordinary hosting company, they go above and beyond that. They give me the tools I need to manage my website easily. I'm a podcaster and with that I need a decent amount of space to run my community off of and EasyCGI has given me that space. Installing Community Server 2007 was a breeze, anytime I needed help with something I just picked up the phone and called. I had my new community up and running in no time at all."

Frank Romano
http://www.theman661.com
Community Server Hosting Customer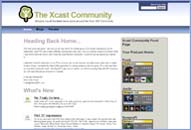 DotNetNuke
"EasyCGI has taken the process of installing DotNetNukes (DNN) to a new level. Our primary reason in choosing EasyCGI as our web hosting provider was the use of this installation script. Upon initial signup of our hosting package, I simply went to my user service area click on DNN installation script and their simple to use installation wizard had my DNN site up and ready for use in less than 10 minutes. Thank you EasyCGI for making this process so easy, I will choose no other than EasyCGI."

Scott Jones
Vice President of Technologies
http://www.BostonVirtualATC.com
DotNetNuke Hosting Customer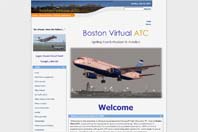 OSCommerce
"The shopping cart software issue", as I now refer to it, was one of my biggest fears. I had no experience with web-based business, and worried that I would spent far too much of my valuable time wading through countless software bundles trying to find an acceptable solution. When I signed on with EasyCGI, I was amazed at how simple loading OSCommerce was, and the support was great. With very little experience and even less time, I've been able to add my entire inventory to my web store. I've now got the potential to reach customers all across the country thanks to OSCommerce and EasyCGI!"

Tom Bell
http://www.redclawgaming.com
OSCommerce Hosting Customer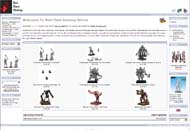 SQL Server
"EasyCGI has provided us with 99.9% uptime since we brought our site over to their servers three years ago. The support staff is there and responsive when it counts."

Brian Greenho
http://www.stencilease.com
SQL Server Hosting Customer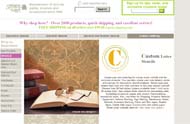 MySQL
"Our website caters for Golf Societies from all areas. The Golf Society management software is available to any Golf Society free of charge because of the low hosting costs and tools included by EasyCGI such as ASP.Net and MySQL. We also send SMS Mobile messages from the site which was very easy to incorporate with EasyCGI web hosting."

Declan OBrien
http://www.golfsocietymanager.com
MySQL Hosting Customer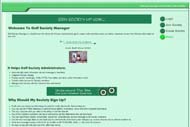 PHP
"BigIronGym.com runs off of PHP and MySQL, without these 2 core technologies, the site would not exist. Not only is the site a place for visitors to find information about Big Iron Gym in Omaha, but it is a community for power lifters from all over to post their thoughts and opinions. Built from the ground up, the whole site and the member management system relies heavily on PHP and MySQL to keep track of everyone that joins. EasyCGI has been a great service. They have always responded to any support tickets within 24 hours (usually within a few hours) and the uptime, well, my site has always been up!"

Bradley Hein
http://www.bigirongym.com
PHP Hosting Customer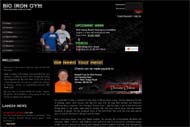 PHPBB
"Dreamport.net is an online community where users can interact and communicate with one another about various topics related to dreaming and lucidity. EasyCGI offers a great hosting service as well as a plethora of useful scripts for their customers. Many of these scripts are designed to give viewers the ability to dynamically interact and add content to the website itself. At www.dreamport.net we utilize the phpBB script that EasyCGI has offered. We have a very community driven website and EasyCGI made it as easy as a click of a button to have our forum set up and running in no time at all. With the convenience of using EasyCGI's automatic script set up options for phpBB we had more time to focus on providing and enriching the best possible content for our viewers."


"Thank you EasyCGI for all that you do."

Patrick Melville
http://www.dreamport.net
PHPBB Hosting Customer